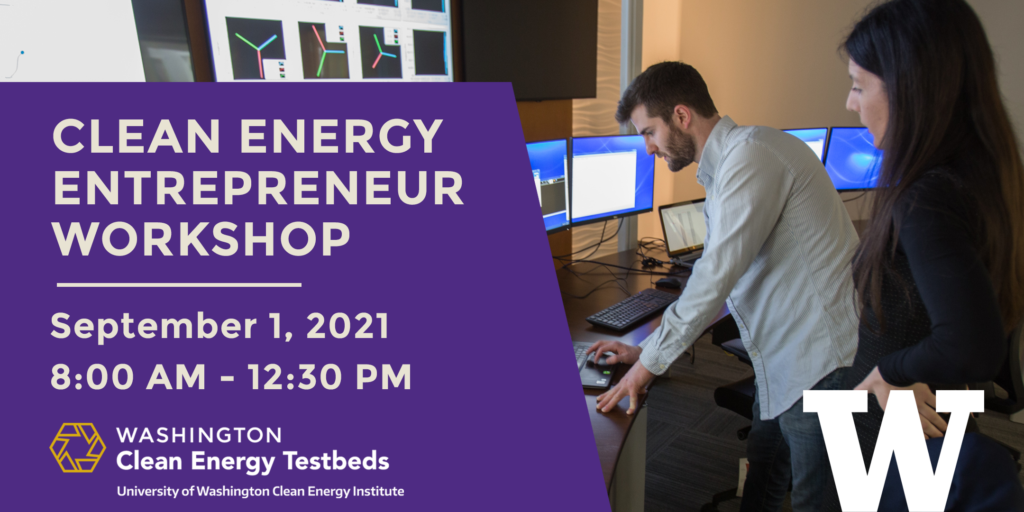 The 3rd annual Clean Energy Entrepreneur Workshop will bring together entrepreneurs, UW students and faculty, industry leaders, and investment groups from across the US.
Sessions will cover working with investors, finding climate tech business resources, and navigating the entrepreneurial experience. Join us to connect with and learn from clean energy leaders.
Featured Keynote: Dr. Andrew Benedek, Founder, Chairman, and CEO of Anaergia Inc.
Full Agenda:
8:00 AM – 8:15 AM – Welcome and opening remarks
Professor Daniel Schwartz, Director, UW Clean Energy Institute
8:15 – 8:45 AM – Keynote talk
Andrew Benedek, Founder, Chairman, and CEO of Anaergia Inc.
8:50 – 9:35 AM – Entrepreneur resources panel
Sara Hunt, Commercialization Manager, PNNL
Jeannet Santiago, Government Contracting Specialist, Washington Procurement Technical Assistance Center (PTAC)
Leon Wolf, SBIR/STTR Assistance Program Coordinator, VertueLab
9:45 – 10:30 AM – Entrepreneur experience panel
Justin Briggs, CSO, Antora Energy
Kenneth Labeja, CFO, Triple Oak Power
Jane Melia, CEO, Harvest Thermal
10:40 – 11:25 AM – Cleantech Investing panel
Eve Hanson, Industrial Sector Lead – Investments & Research, Third Derivative
Alicia Lenis, VP, Chrysalix
Lou Schick, Director of Investments, Clean Energy Ventures
11:30 – 11:40 AM – Closing Remarks
Professor J. Devin McKenzie, Technical Director, Washington Clean Energy Testbeds
11:45 AM – 12:30 PM Networking Session
*Free for UW students, postdocs, faculty, and staff. Email wcet@uw.edu for registration code.