The University of Washington Clean Energy Institute created the Washington Clean Energy Testbeds to accelerate the development, scale-up, and adoption of new technologies in solar harvesting, energy storage, and system integration. This open-access facility in Seattle, founded on the principle that users retain all intellectual property, offers customized training and use of instruments for fabricating prototypes, testing devices and modules, and integrating systems. The facility also houses meeting and office space where users from academia and business work and collaborate. Through special events, Entrepreneur-in-Residence and Investor-in-Residence programs, and community-sponsored networking opportunities, the Testbeds are an active gathering space for cleantech innovators and investors.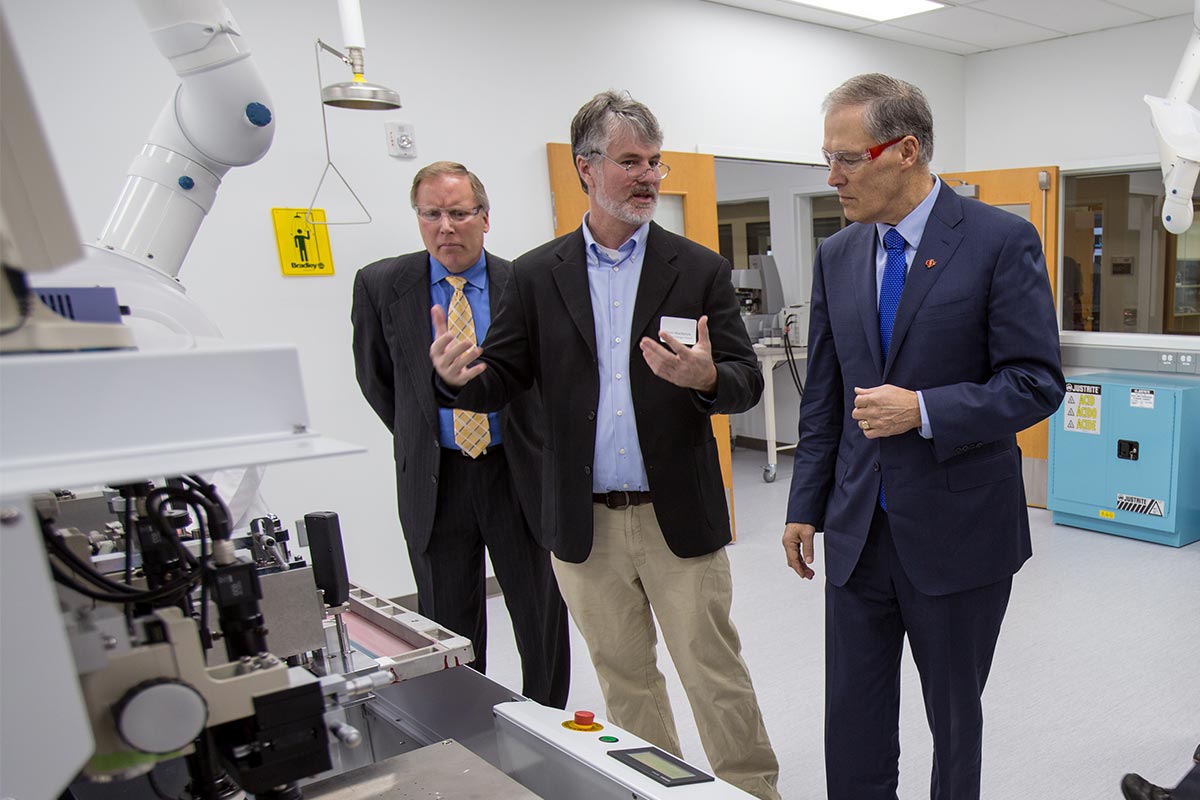 The Testbeds were created with support from the Washington State Legislature, Washington Research Foundation, and private donors.
The Scale-Up & Characterization and Systems Integration Testbeds (Bowman Building)

The Scale-Up & Characterization Testbed is the primary location for developing at-scale fabrication processes through ink-based thin-film technologies and additive manufacturing. The facility offers researchers the opportunity to synthesize, fabricate, and test in a state-of-the-art production environment.

All fabrication activities are supplemented with industry-leading characterization and systems integration analysis equipment. A large suite of rapid-scan materials analysis equipment affords users immediate, comprehensive feedback on successful formulations and fabrication processes. A broad selection of battery cyclers, energy simulation equipment, and our Opal RT digital simulator provides our lab users an electrical system testing environment that is on par with the national labs network.

Located right behind University Village, with easy access to the UW Stadium Link Light Rail and a number of King County Metro bus routes, this location supports a majority of the Testbeds' private sector and academic research users. To learn more, visit our contact page or email us at wcet@uw.edu.
The Research Training Testbed

The RTT serves as an interdisciplinary space where students can realize their own energy-related innovations as well as collaborate with scientists and engineers in the clean energy community. This facility provides an integrative training environment for students to learn research techniques that span a wide breadth of clean energy challenges. The RTT hosts laboratory courses on the development of novel energy materials, fabrication and testing of energy devices, and the integration of climate tech into grid systems.

The lab is open to research groups as well as students interested in developing and testing their climate tech prototypes. Instrumentation unique to this lab is available to non-academic users. To learn more about the Research Training Testbed, visit our contact page or email us at rttadmin@uw.edu.

The Research Training Testbed (RTT) is conveniently located in the Nanoengineering and Sciences (NanoES) building in the center of the UW campus.